The 'Rotary Route' is a cycle touring route of Southern Vancouver Island . This carefully laid out route takes you through some of the Island's most scenic towns and countryside including Sidney, the Saanich Peninsula near Victoria, Mill Bay, Duncan, the Cowichan Valley, Chemainus, Ladysmith and the Cedar area south of Nanaimo. It also incorporates three beautiful ferry rides from Tsawwassen to Swartz Bay , Brentwood Bay to Mill Bay and Duke Point back to Tsawwassen. The route involves a total of approximately 110 kms of ocean travel by ferry and 110 kms. of cycling.
The tour starts at the Tsawwassen Ferry Terminal, 37 kms. south of Vancouver . Here you can leave your car in a safe parking lot before taking the ferry trip from Tsawwassen to Swartz Bay just north of Victoria , BC . From Swartz Bay you follow a well marked cycling route through southern Vancouver Island until you arrive at Duke Point (just south of Nanaimo ). Do not worry about highway riding. The Rotary Route is predominantly on country roads. Two short sections of the Route follow the Trans Canada Highway , but the shoulders are wide and safe. Much of the Route follows the eastern shore of Vancouver Island .
The tour is meant to be enjoyed over a period of two or three days. You should never be more than 10 kms. from food or lodging. Southern Vancouver Island is a haven for beautiful bed & breakfasts, unique restaurants and great pubs. Come and see why Vancouver Island is regarded as one of the world's most beautiful islands. Ride the Rotary Route .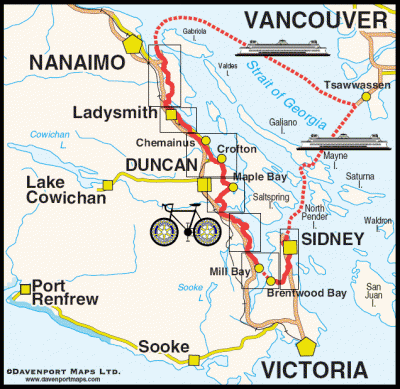 What you need to know.
Purpose
The purpose of the Rotary Route is to promote cycle tourism throughout Southern Vancouver Island. It offers a triangular route between the Vancouver, Victoria and Nanaimo areas of B.C. It caters primarily to bicycle tourists coming from the Vancouver and Seattle areas. They will be able to leave their vehicles at the Tsawwassen ferry terminal near Vancouver and enjoy a bicycle tour throughout Southern Vancouver Island.The tour involves three ferry trips (Tsawwassen (Vancouver) to Swartz Bay (Victoria), Brentwood Bay to Mill Bay and Duke Point (Nanaimo) back to Tsawwassen) and approximately one hundred and ten kilometres of cycling over country roads that pass through the small towns of southern Vancouver Island.
The route provides a base from which cycle tourists wanting to experience more of Southern Vancouver Island can branch out over hundreds of kilometres of roads suitable for cycle tourism in the area. For much of the Route you will be cycling along the water. Part of the Route is already designated The Seaside Village Route.
The attraction of the Rotary Route is that it is a beautiful, well marked, relatively easy cycle tour that can be accomplished in a weekend. It follows a triangular route involving three ferries that starts and finishes at the same location.
Requirements

• Two or three days of leisure time
• A good bicycle (mountain or touring)
• One credit card - for food and lodging. This tour is not meant to be a spartan exercise.
• An inquisitive mind
• A moderate level of fitness (or a desire to achieve it)
• The usual bike paraphernalia (helmet, reflective clothing, spare tube, tools, glasses, gloves, water and a pannier for luxuries).
| | | | |
| --- | --- | --- | --- |
| Total Distance: (Kilometres) | | Land | Water |
| Tsawwassen to Swartz Bay (ferry) | | | 45 |
| Swartz Bay to Brentwood Bay | | 20 | |
| Brentwood Bay to Mill Bay (ferry) | | | 15 |
| Mill Bay to Duke Point (Nanaimo) | | 90 | |
| Duke Point to Tsawwassen (ferry) | | ___ | 50_ |
| Total | | 110 | 110 |
A word about the Weather
The southeastern portion of Vancouver Island has Canada's mildest weather. It rarely ever snows or gets below freezing. Because of the rain shadow effect of the Olympic Mountains of Washington State, it gets substantially less rain than either Vancouver or Seattle. From mid June until mid September it is very dry and drought like conditions are not uncommon. However, it can rain at any time, so it is best to pack some wet weather clothing.
General Notes
This guide is intended for the geographically, chronologically and mathematically challenged. It assumes that you have only a limited ability to read maps, understand a compass or estimate distances. It intentionally follows a route from south to north. This is because there are better shoulders northbound, most turns will be right turns (therefore safer) and for most of the route the water will be on your right.It also assumes that you are travelling at approximately fifteen kilometres per hour. This is relatively easy on a bicycle on a flat grade. However, bear in mind that no so long ago, Vancouver Island was scoured by glaciers with the result that there are hills and undulations.The beauty of this trip is that you can leave your car in Tsawwassen near Vancouver, experience three relaxing ferry rides, cycle over charming rural roads, visit delightful small towns, stay in wonderful bed and breakfasts and eat at interesting restaurants without having to backtrack.The object of the trip is to stay off the beaten path and get a feel for Southern Vancouver Island. It is not a race. It is not grueling. This is a great excursion for couples and families.Traffic on the route is generally light. Larger and faster vehicles keep to the main Island Highway. There are three times when you must travel on the Highway but on these occasions you are traveling on very new highway with very wide paved shoulders.
Pubs feature prominently on this route. They often have the best food. Nothing tastes better than a pint of cold beer after a good ride. However, remember that in BC most of the rules of the road that apply to operators of motor vehicles also apply to cyclists. Moderation in all things is the key.
For a detailed description of the route, please click on this LINK.